Hi!  This is Suzanne.
I keep hearing from all of you that the single BIGGEST hurdle to selling kids clothing online is simply getting organized to do it. Well, we're fast approaching (believe it or not) 4 key windows of selling opportunity with Back-to-School, Halloween, Winter, and the Holidays.   So, I decided to come up with a system to help you get organized ahead of time in bite-sized chunks.  Follow my simple 6 weeks to Selling steps and you'll be right on time for all 4.
Don't postpone and wait until the last minute.    These steps break the whole process down into manageable chunks that you can fit in your busy schedules.   You can do this.    Whether you have online selling experience and just have a hard time getting organized to sell, or you are a complete novice, I'll motivate you and walk you through step-by-step.
I'll send you a new step each week.  Sign up for our email to get each step delivered directly to your mailbox.   Follow along with me, and you'll be listing by July 10 — right on time for back to school, and without any stress.   Here's a preview:
Week 1:  Find It (Below!)

Week 2:  Evaluate It
Week 3:  Sort It
Week 4:  Organize It
Week 5:  Photograph It
Week 6:  List It
Let's get started!
WEEK 1 – Find it!
If you're like me, you stash your kids clothing that you no longer need all over the place!  Sometimes it's just pushed aside in the closet or buried at the bottom of your drawers.   Other times, it might make it to a different room, closet, or your basement.  If you're somewhat organized, it may have even got put into some bins, bags, or boxes.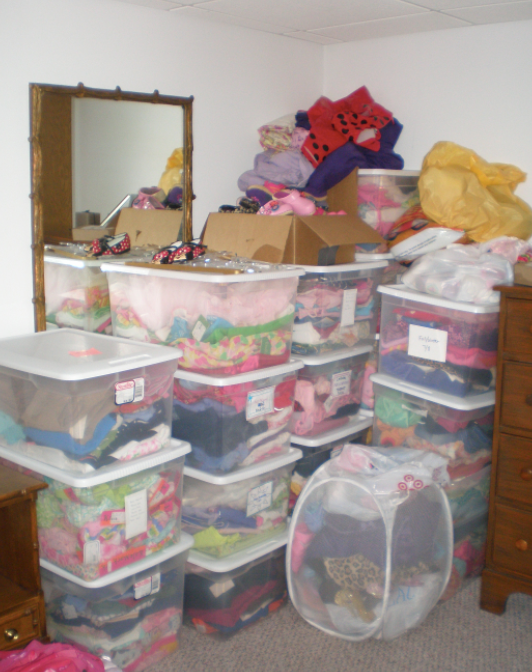 So, your the first step to getting organized is to just Find it – all.   Get it in one place.   If you have a lot, you may need to claim an area of a room for the next few weeks, but you'll be glad you did!
If you have a resulting pile as big as mine was (shown below), don't worry.  You can still get through it all
At this step, just find it – don't dread it:
Don't worry about sizes
Don't worry about brands
Don't worry if something is missing
Don't worry about what you can or can't sell vs. what you might donate, swap, etc.
And… don't even worry about seasons right now
The only thing I want you to look for as you're doing this is weeding out anything you don't want to get rid of, e.g. items that look like they may fit your child next season, items you want to save for a younger sibling. etc.   Remove all this from your pile(s) and put safely away in storage.
Do you already have everything in one place?   Are you sure?  It's worthwhile double-checking before moving on to step 2 next week:  Evaluate It. I'll be sending you my method for evaluating all the clothing I'm ready to let go and determining if its worth listing for sale on line.  Sign up to get next weeks tips.
See you next week!
Suzanne