Parents know they are a huge influence on their kids.  Even when you don't think they're paying attention, they are!
Have you ever had one of those moments when you look at your child and realize they are a mini version of you?  Could be in their mannerisms, the phrases they use, the tone of their voice or even their fashion sense.  Imitation is the best flattery and the kids love to flatter… good, bad or ugly! 
Why not take it to the next level and let your kids dress like you too?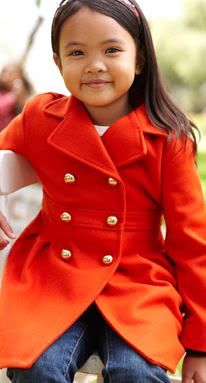 Children's fashion trends feed off of adult styles.    Take this cute little orange trench (pictured left) from Gymboree and the handsome boys ensemble from crewcuts by J. Crew (above right).  Both are styles that could most definitely be worn and loved by adults and kids alike.  The key is keeping these mini adult versions in kid friendly fabrics that wash well, are practical and most of all, are comfortable.  Kids don't want fussy and parents want function.
Little girls and little boys love to emulate mommy and daddy.  As parents, we strive to provide a positive, well rounded example for our kids to learn from.  Why not make your style part of the example?
Loobalee.com:  Your premier site to buy and sell quality kids' clothes!