LoobaLee Media Kit – Spring 2011
Our Spring 2011 Media Kit has arrived! Download below for more information.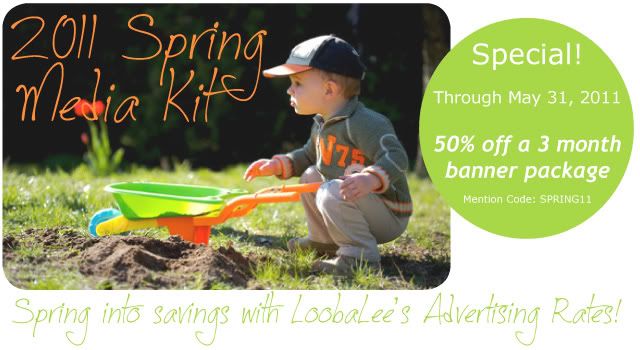 If you have any questions, please email sales@loobalee.com.
Why Advertise with LoobaLee?
LoobaLee.com's blog, "The Daily Jubilee" is a blend between an online children's clothing magazine and a children's clothing blog for parents. "The Daily Jubilee" ranks as high as top children's clothing boutiques and online magazines. Our visitors are highly targeted to the designer children's clothing market. If you have a product or service that targets the same market, our LoobaLee blog is a great place for your banner or promotion.
You can see demographic breakdown of our audience in the Media Kit. Currently, we have about 200 page views every day, and about 1500 page views every week and are actively working to grow our traffic.   Uniquely, the vast majority of our page viewers are Moms interested in quality and designer's children's clothing.
The Daily Jubilee is a complimentary blog to the LoobaLee.com marketplace.  For almost 3 years, LoobaLee has advised Moms on how to "Buy Right, Care Right, & Sell Right" to help them spend less on dressing their kids in quality & style. On our blog, we post weekly promotions from the major retailers, news in the children's clothing industry, reviews on children's clothing brands and boutiques, and more. On our main site, we offer a venue for Moms to resell outgrown children's clothing as well as Designers & Boutiques to sell overstocks and closeouts.
"

Within days of partnering with LoobaLee, we saw an increase in traffic to our website and conversion rate. Our online store, Melondipity.com, sells baby hats, headbands and accessories, and the LoobaLee audience couldn't be a better match. LoobaLee referrals, on average, are among the highest converting segment of traffic on Melondipity.com. LoobaLee does a fantastic job of connecting and building relationships with parents, grandparents and others who are looking to buy quality kids' items online. LoobaLee is on a roll and we're thrilled to be a part of it! — Tom & Tracy Sailors, Owners, Melondipity.com