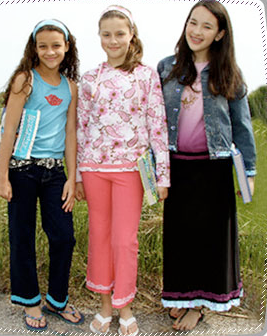 When thinking about back-to-school, its becoming more and more popular (and available) to offer girls the opportunity to custom-design their own clothes.   We wonder… how well can these items fair on the resale market?   Likely not very high, but the trade off in experience for your girls to say "I designed it myself" and give it a try might be worth it.   These experiences can make great gifts or activities to keep kids busy on  late summer day.
One of the most exciting and hands-on names we would like to share with readers is Fashion Playtes, a very interactive site for girls to design their own clothing: such as a dress, top, skirt, or even denim jacket.  Designing on Fashion Playtes is as "easy as 1, 2, 3… Choose It, Design It, and Wear It".  It really is that easy, but a girl can also spend a lot of time designing and redesigning their outfit to get the most from the experience.
"Custom" clothing to design & embellish at fashionplaytes.com.
Bonus!  Fashion Playtes is featuring a fantastic back to school deal for a limited time.
Create Tees & Denim with FashionPlaytes. 10% Off on Gift Certificates or Any Order minimum of $25! Use Coupon Code: save10forschool
Caution! 
A mistake I made is to let my daughter 'play' with the site for a while to see how it worked.  Once she had her design, it was a tear-filled experience to cancel the order because we were just 'practicing'.
Fashion Playtes target market is girls ages 5 – 12, so its a perfect fit for your elementary aged daughter going back to school.   Single items start, after embellishing, start at about $20  and fully-designed outfits start at about $45.   Since the process / items are marked up to reflect the custom manufacturing, its wise to watch for and take advantage of sales, for example a summer sale going on now where all terry beach items are 30% off.
And what about for the younger siblings? Perhaps a companion activity for the younger ones to consider is another site we found, I See Me. This site features personalized children's books in a variety of topics.  A great way for your child to learn their ABC's and their own name while you have fun designing the book for them — even older preschoolers can 'help' with the design process.  For a limited time, they are offering Free Shipping on personalized storybooks when you type in the code: FSR785 at checkout.

Have you found or tried out a new kids custom or personalization service for designing clothes or other items?   Let us know — we'd love to hear experience and new finds on LoobaLee!