Earth Day is approaching fast, and to pay respect to our Earth, we are praising the statement:
Save the Earth!
Advertise Online!
To encourage those of you who own boutiques, or other kid/mom-focused brands, we're offering  buy one get one free on any of our weekly advertising packages — April 20 – 22 only!
We target style-savvy moms who shop consciously for unique, quality products and services.   Read more in our Media Kit
Here are the details: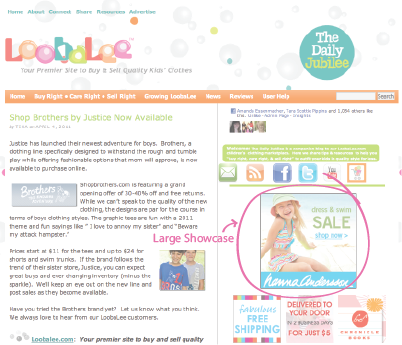 To be eligible for your  free week of advertising, you must purchase any advertising package*.    The great news is: advertising on LoobaLee starts at only $15/week.

If you want a large showcase for the best visibility, it would only be $100.  Two whole weeks of advertising in our premier spot for only $100! It sounds too good to be true, I know, but we are making it possible!

So, if you haven't done so already, download our new Spring 2011 Media Kit, check out the different sizes we offer, and place your order by April 22nd.

To place an order, you will need to:

Contact sales@loobalee.com

Include in the email:

The size of your ad that you would like to purchase, when you would like the ad placed (based on first come-first serve), and your artwork. Make sure your artwork is the exact size of the ad that you have purchased, has a resolution of 72 dpi, and is a JPEG, GIF, or PNG.   Payment will be confirmed after we schedule your ad.

SMALL PRINT:  Offer good only on individual ads.   This offer does not include our multi-week banner packages, or featured seller packages.   To receive this offer, we must receive your email by Friday, April 22, 2011 at 11:59 p.m.