At LoobaLee, we know Moms love shopping online for kids clothing and love finding bargains, but also don't have time to waste.  So, in our marketplace you can search a variety of ways to find exactly what you are looking for – -no more, no less. We aren't like the huge marketplaces, such as eBay, where Sellers can spam listings by stuffing the title of their listings with false keywords, or where they feel they need to stuff their titles with multiple sizes just to show up in searches.
No… we're different!
For starters, our Sellers select from drop-down menus that hep them specifically describe their item in detail, then we do the rest of the work!
And, we just added two more ways to browse our database, in addition to the 7 ways that already exists.  With one of the 9 ways to browse, surely you'll find one that suits your taste.
So, what's new?  Check our our two new searches below.  When you get to LoobaLee – just select the big red Shop Button to find them!

Availability Search
First, our favorite, an Availability Search that drills down in the left menu by size.   Our sizes are broad categories, so that they include all the ways different manufacturers size their items.  For example, with just one click you can bring up everything listed in sizes 24 months, 2, and 2T at one time for either boys or girls!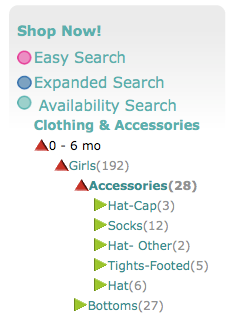 Find by Keyword
We know habits are hard to break!  And, let's face it, most marketplaces offer Keyword Search and not much else when it comes to helping potential Buyers find what they want – so they have trained us to expect Keyword results, even though they aren't accurate.   For example, if you search for Size Kids 4, and you get size 14, 24 months, and so on…
And, since old habits die hard, we've added this familiar feature into LoobaLee.  You won't find the same exact results as our other searches (because it works just like eBay and others),  but it can deliver some colorful results and its a great place to start or a great search to try if you don't know how or where else to look.